Super useful classic and stylish Chrome extension to add world clock of your choice, and keep up to date with time of any place!

A productivity booster world clock Google Chrome extension!
😇 If you feel that this extension
makes you more productive at work or
make your browser look awesome or
maybe just simplifies your life or
helps you in some or other way
then please consider
🛠️ Installation and Setup guide
💻 Screenshots: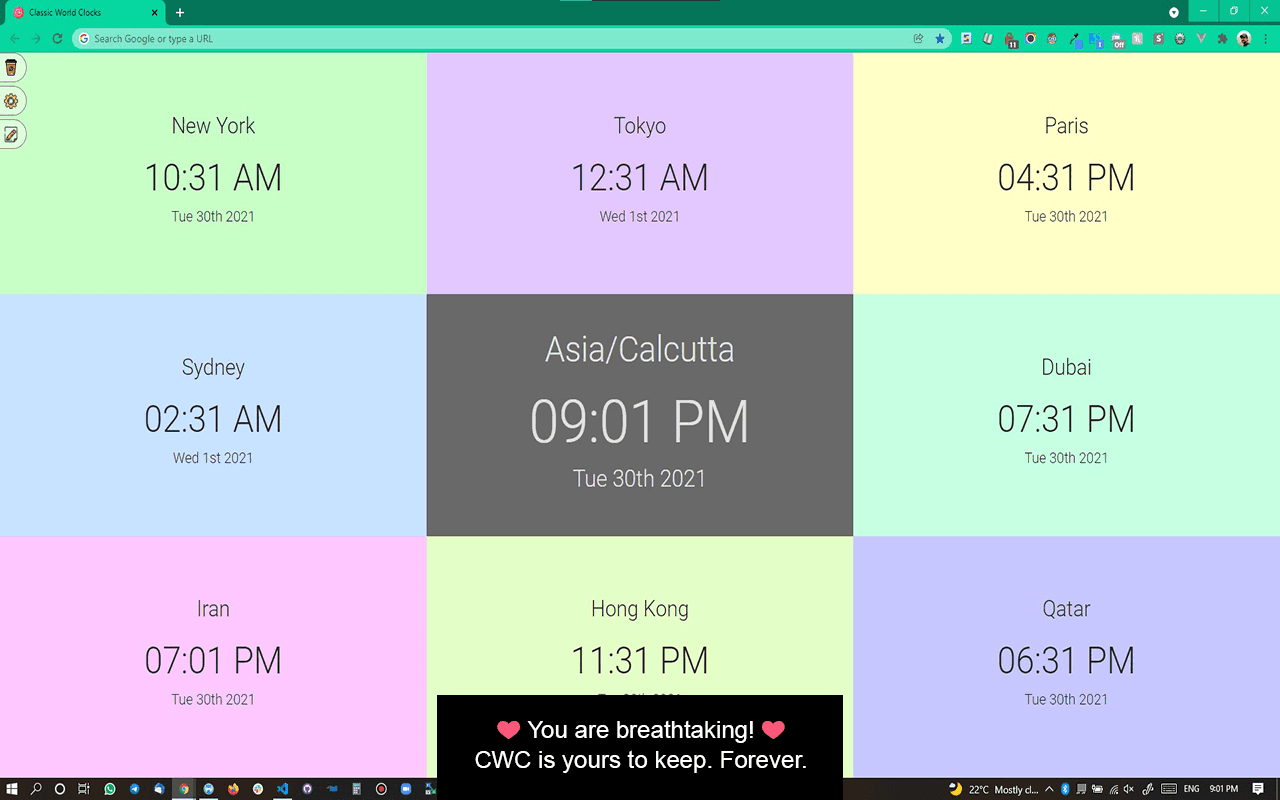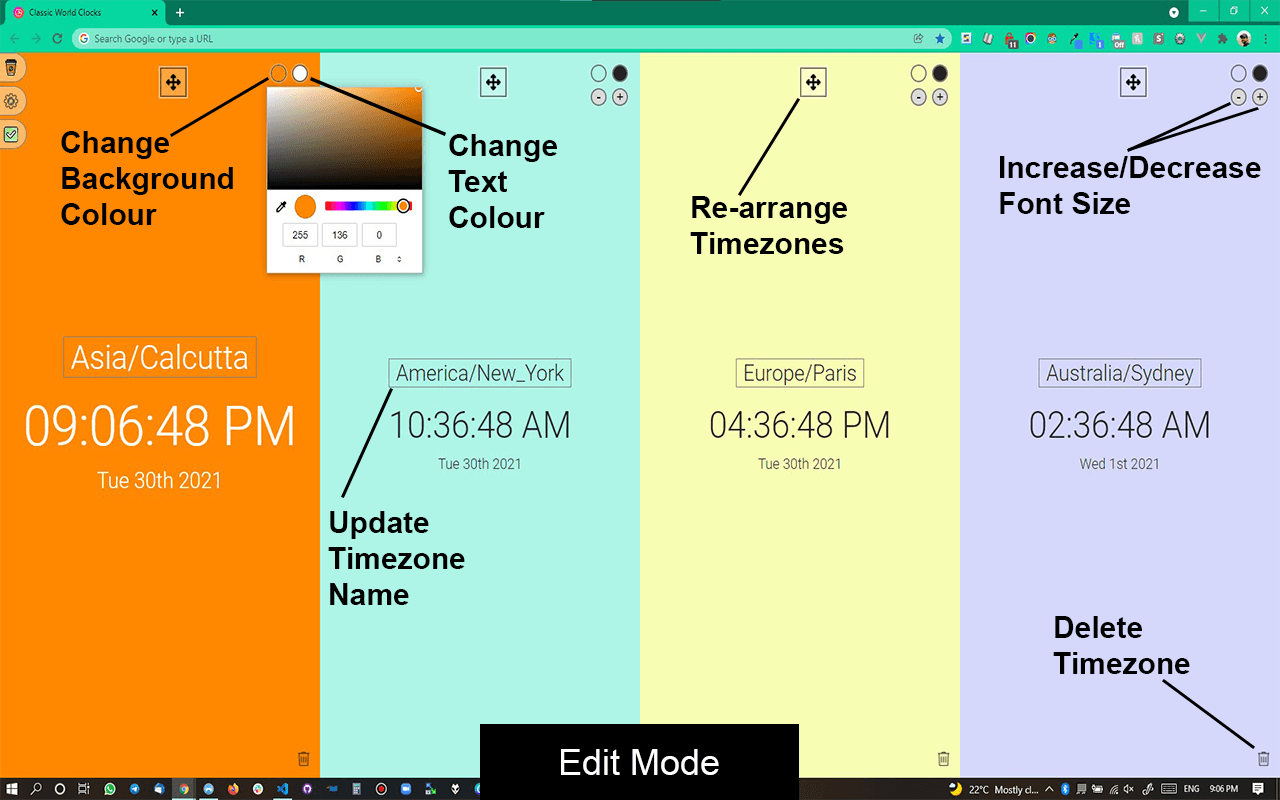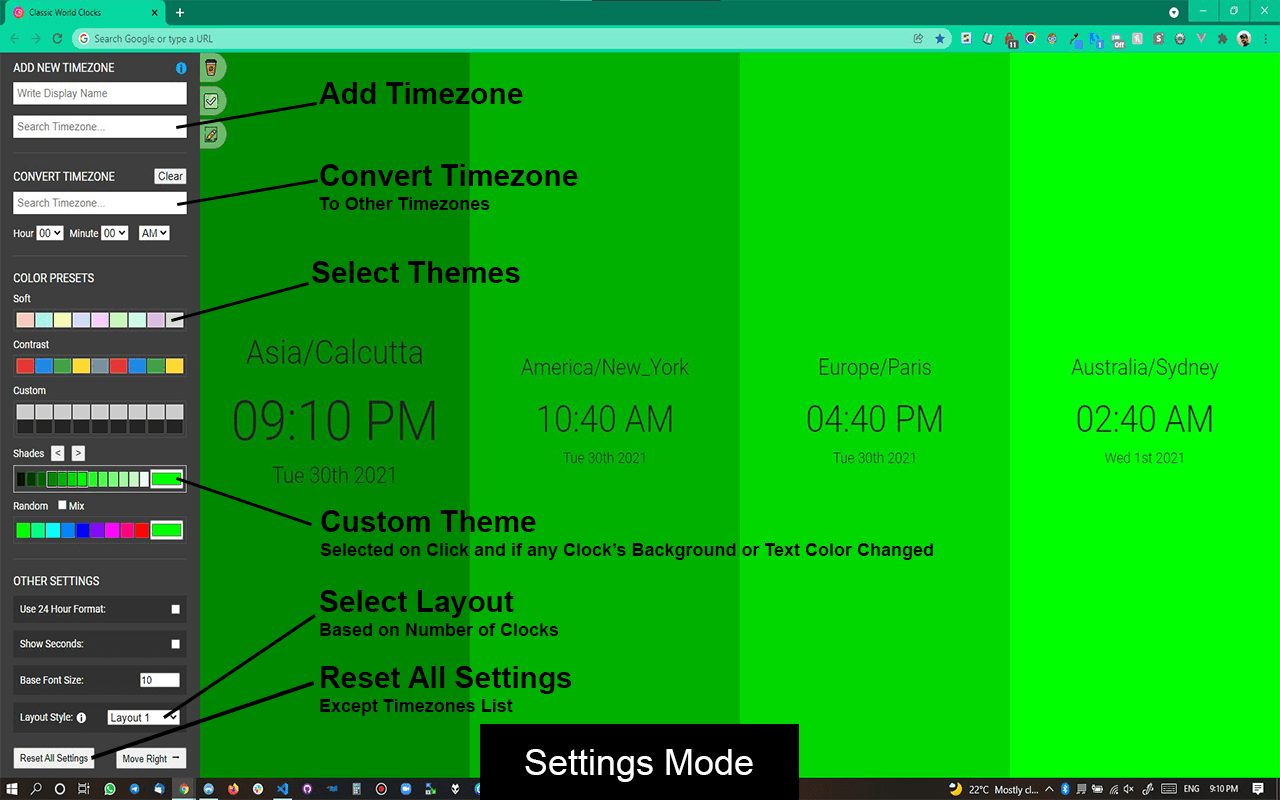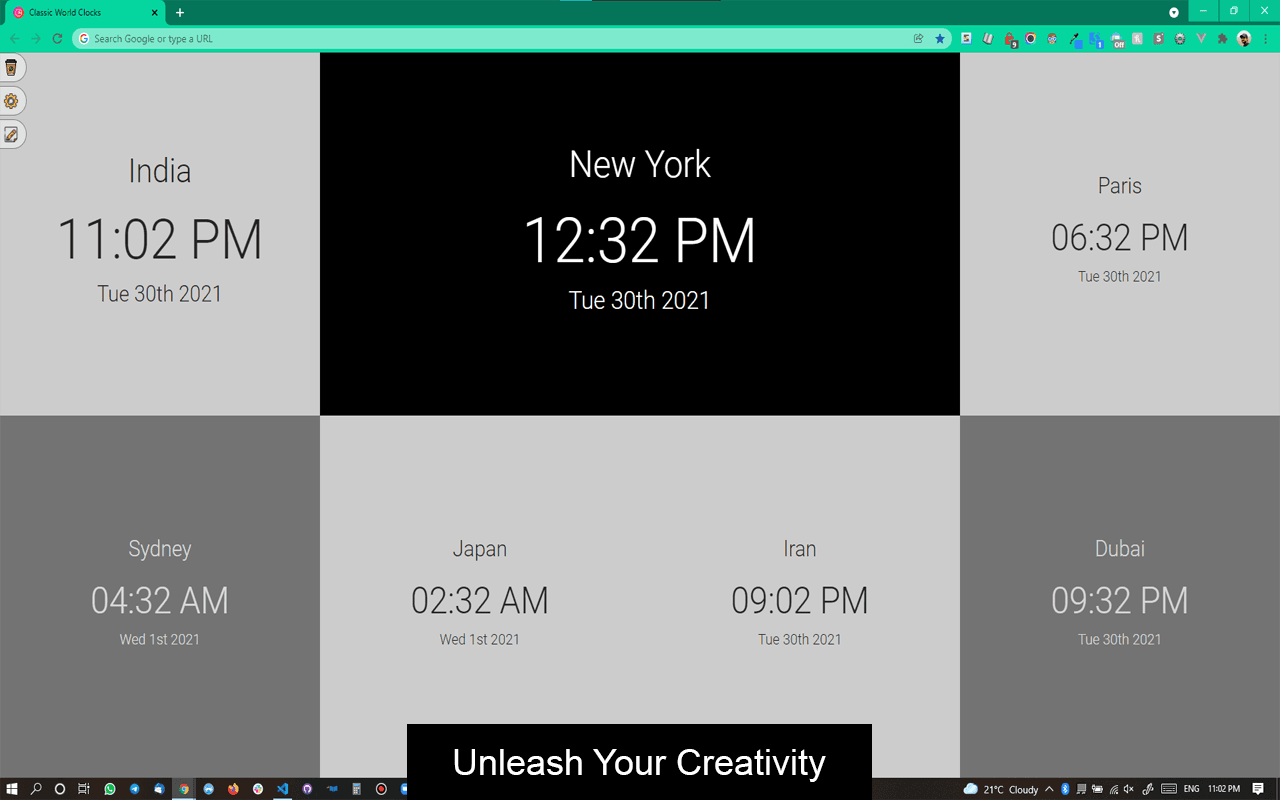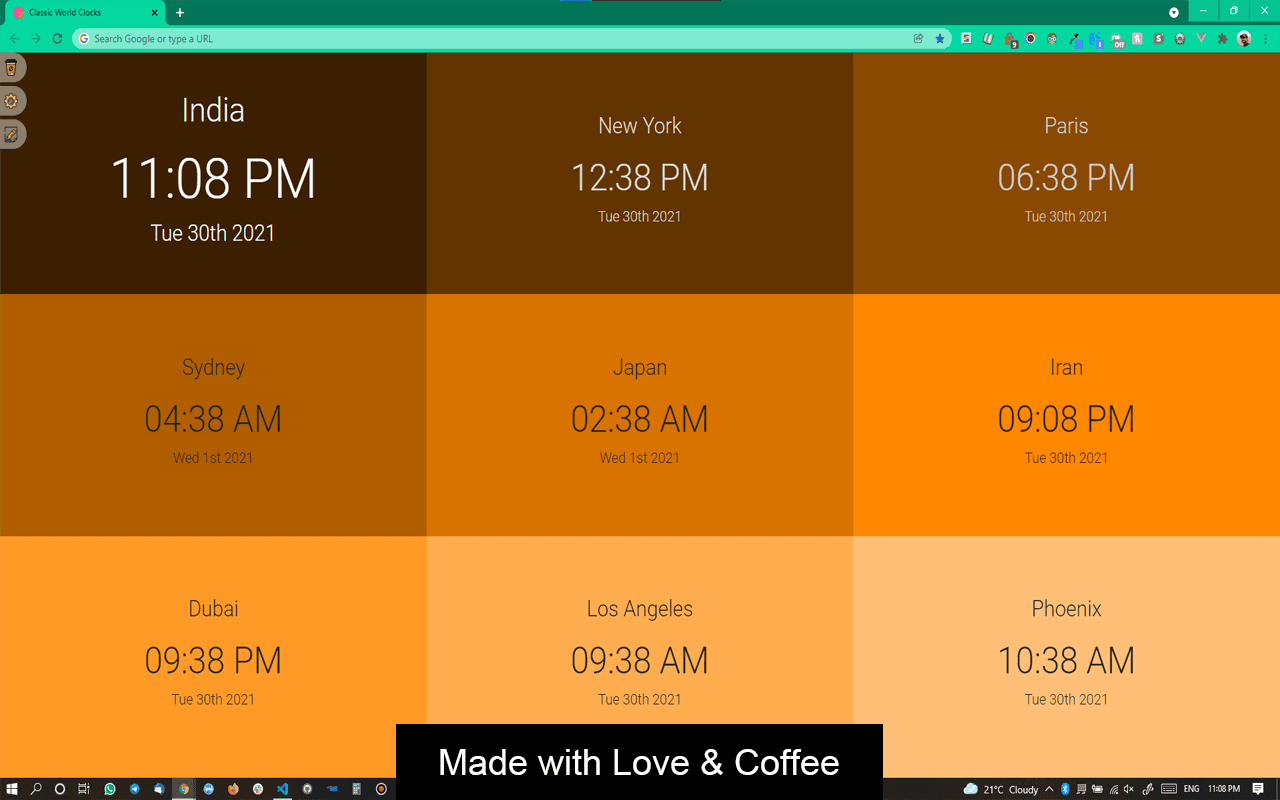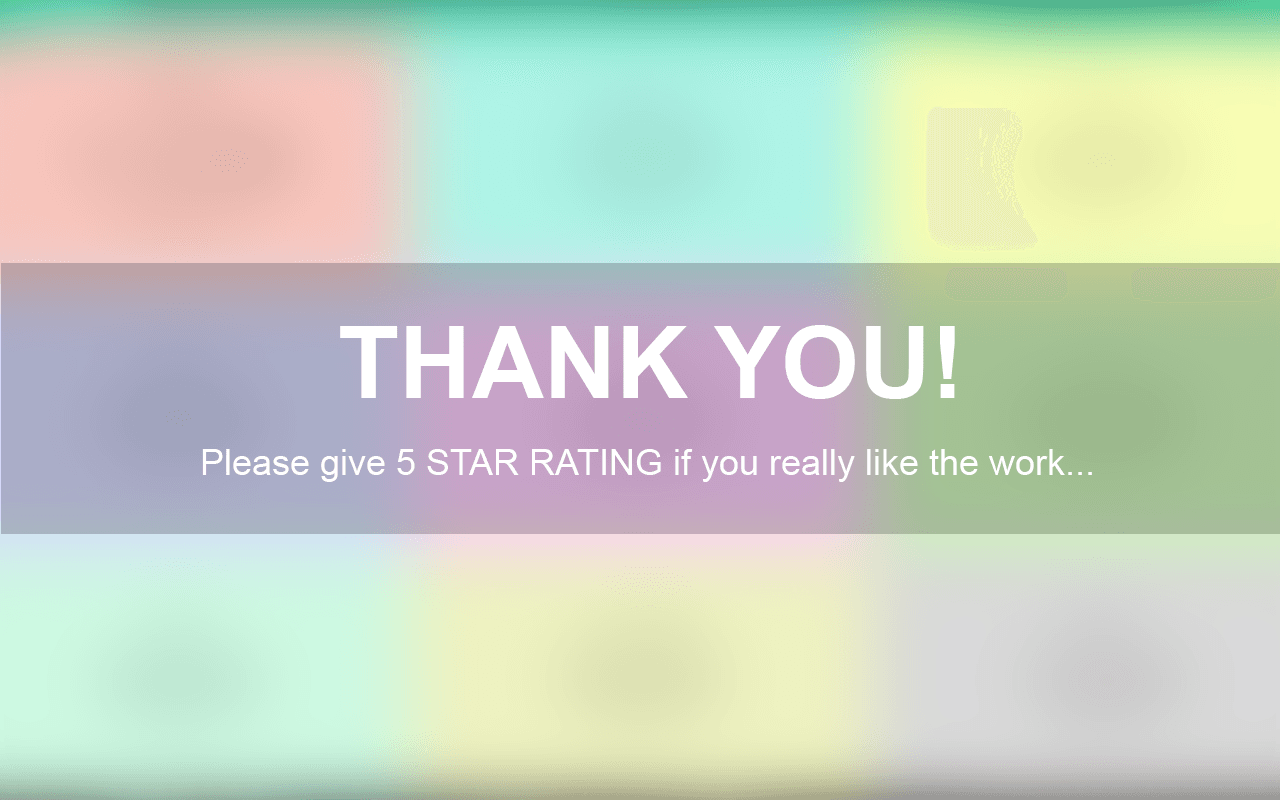 💪 Features:
- All settings are kept in sync.
- Add, Remove, Sort, Edit time zones.
- Convert time zone time to other time zones.
- Very easy to use.
- Responsive layout.
- Nice add/remove effect for better user experience.
- Select the color theme from available presets.
- Set your own color for the individual clock.
- Set font color and size as per your choice.
- Select 12 or 24-hour format.
- Turn on/off seconds display.
- Change the display name after adding the clock.
- Different sets of layouts added.
- Keep settings panel on left or right.
- Reset all settings.
- New features are added on a regular basis 👨‍💻.
😲 Inspiration: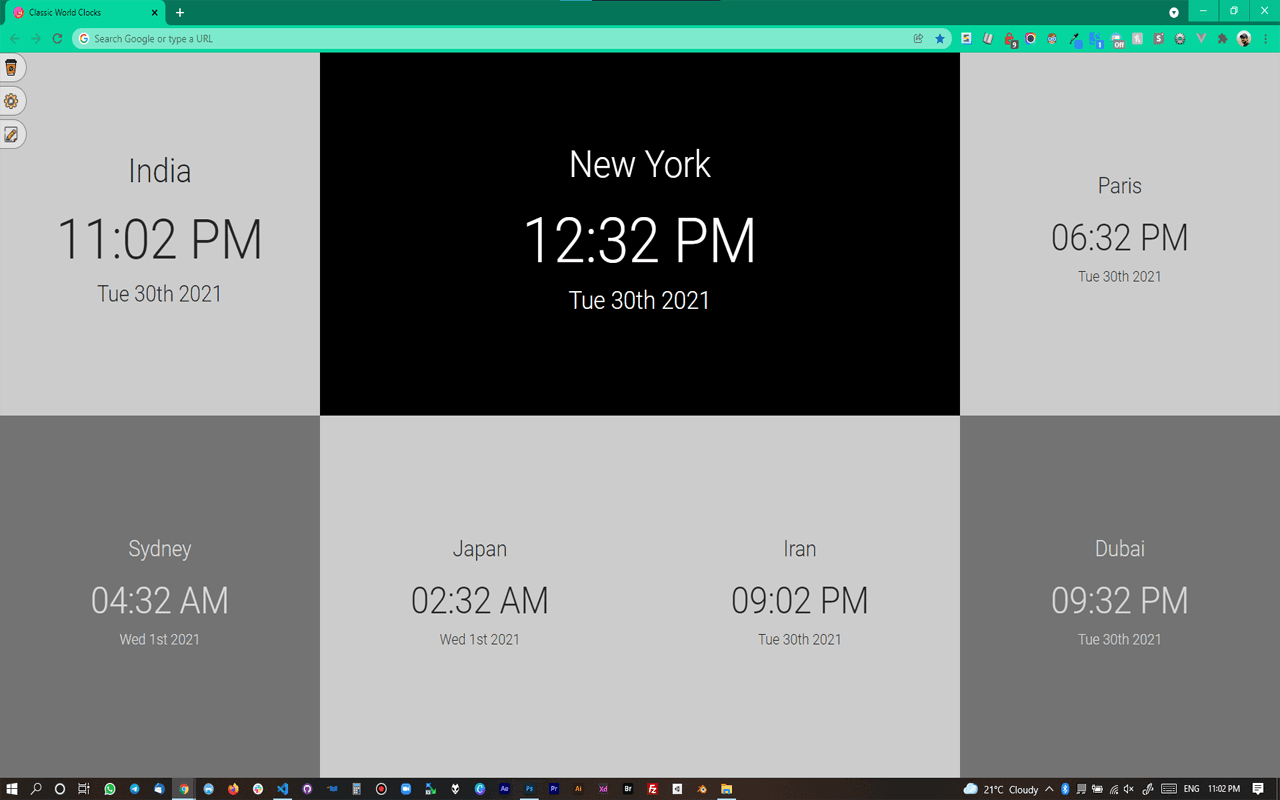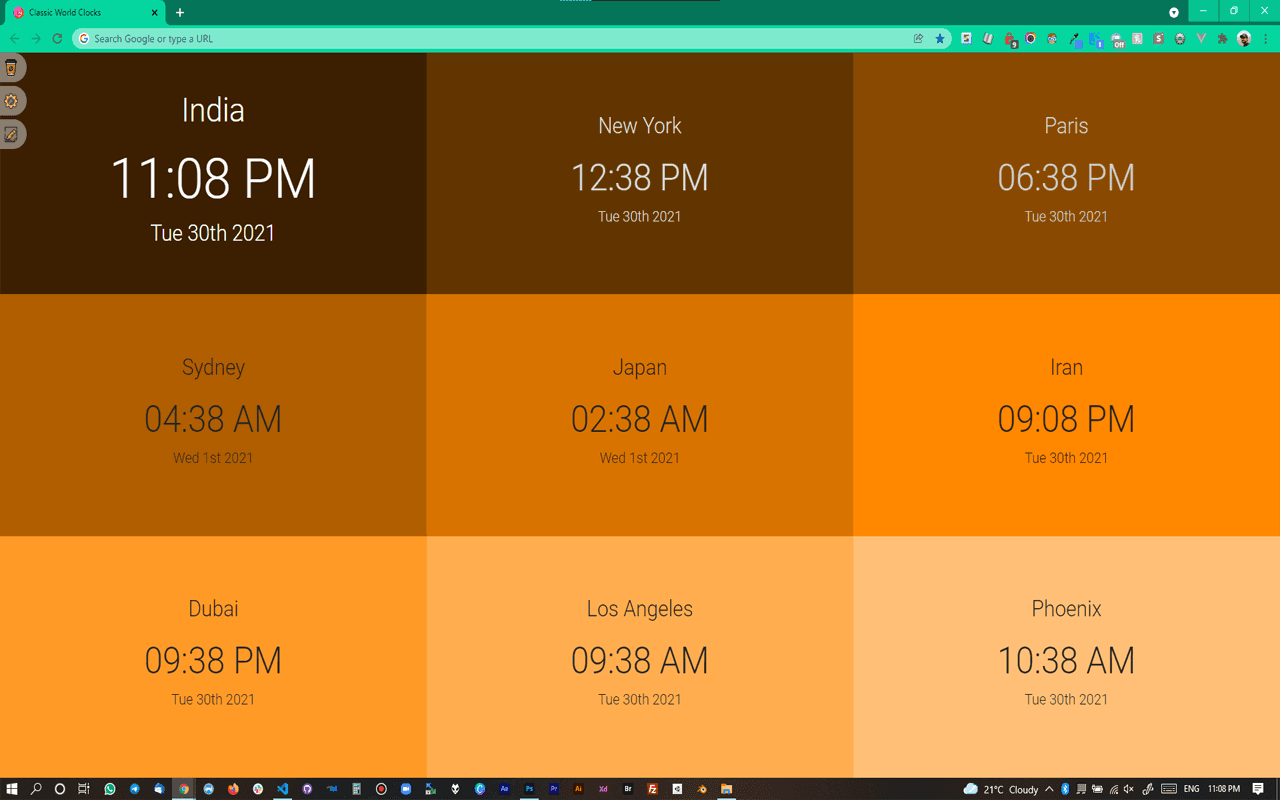 📝 Changelog:
v 23.8.31 🆕:

- Update Icons
- Update URL's
- Update manifest file
v 23.8.27:

- Update meta data
- Remove log statements
v 23.5.2:

- New toggle buttons
- UI/UX improvements
- Optin for GA4
- Reduces overall extension size
- Bug fix: Fixed some crossbrowser CSS issues
v 22.11:

- Manifest migration from v2 to v3 (very important update)
- Size reduced (Increased performance, only ~500KB)
- Few CSS updates in the Settings panel
- Bug fix: Time conversion just after install
v 21.12:

- Timezone convert feature added (MOST REQUESTED FEATURE)
- Multiple layouts added for eye catching UI
- New shades theme added
- New random theme added
- Text color options added
- Font size options added
- Base input font size added to increase or decrease overall time zones font
- Reset functionality added
- Clock icons positions updated
- Beautiful radial background added at loading time
- Drag & Drop animation added
- Settings panel slide effect added for better UX
- Settings panel position can be LEFT or RIGHT
- Font sizes change from px > rem and em for better usability
- Settings panel now have a scroll bar for screen having small heights
- Removed time value from tab
- Overall user experience improved
- Redundant code removed
- Bug Fixed: MAX_WRITE_OPERATIONS_PER_MINUTE
v 21.04.1:

- Bug fixed related to settings open by default
v 21.04:

- Version naming changed
- Few things improved as per users feedback
- Thank you page will open only on a new install, not on an update
- Credit section added
- Button text replaced with icons
- UI Improvements
- Small bug fixed
v 2.2:

- Note able to drag at the end bug solved
- Code refactoring
- Thank you page message updated
- Credits link added
v 2.1:

- Don't show the sort and delete icon for the last clock remaining while deleting
- Thank you page added after installation
- Feedback form added after uninstallation
v 2.0:

- Turn on/off seconds display
v 1.9:

- Items can be rearranged now by drag and drop Add timezone animation
- added Delete buttons not showing up on the first load bug fixed Logic
- and UI updates
v 1.8:

- Remove timezone animation added Can't add duplicated timezones
- Default 4 time zones added on first load
v 1.7:

- UI updates code refactored bugs solved credits link added support
- button added
v 1.6:

- New Add button and Edit Button Layout. Don't show am/pm in 24hr format
- Stop user from adding invalid Time Zone
v 1.5:

- Not able to create more than 5 clocks bug solved
v 1.4:

- CSS/Style updates
- Select 12 or 24-hour format
- Change display name after adding a clock
v 1.3:

- CSS styles updated
v 1.2:

- Select 12 or 24 hour format
- Using vanila Javascript
v 1.1:

- Bugs removed
- Screenshots added
Oh still here, you are super awesome!
🤘 Keep rocking!!!

❤️ You are breathtaking! ❤️
World Clocks Extension is yours to keep. Forever.
If not already installed, try it now!Install